FIRST CHURCH OF CHRIST, CONGREGATIONAL
United Church of Christ – North Conway, New Hampshire – Est. 1778

"No matter who you are or where you are on life's journey, you are welcome here!"
MUSIC
The Music Ministry of First Church offers us the opportunity to worship God in music and song.
Whether we listen actively, sing or play an instrument, music brings us closer to the heart of God and allows us to express what we cannot with mere words.
The primary instrument for worship is our 1984 Moller Pipe Organ. In 2006, the membership of First Church of Christ approved a major upgrade and modernization project for the organ. David E. Wallace, Pipe Organ Builders of Gorham, ME was contracted to undertake the rebuilding job. The project was proposed in three steps: I Great Division, II Swell Division and III Console. Work included new windchests, new pipe work, total solid state relay controls and reconfiguration of the console making it compatible with all upgrades made in the organ chamber. The organ project was completed in June of 2013 and the rebuilt instrument was dedicated during the morning worship service on October 26, 2014.
Our Chancel Choir leads worship from September through June. Our repertoire includes sacred music of many styles and eras. We welcome singers of all voice parts and abilities to join us for the year, for a season, or for a Sunday or two.
The Handbell Choir uses three octaves of Schulmerich bells to ring praise to God. Ringers of all levels are welcome to join us for rehearsals and Sunday morning services approximately once every two months.
Pictured left to right …
Anne W. Polak –
Chancel and Handbell Choir Director
Floyd W. Corson –
Organist
Muriel Magg –
Associate Organist and Music Team Chair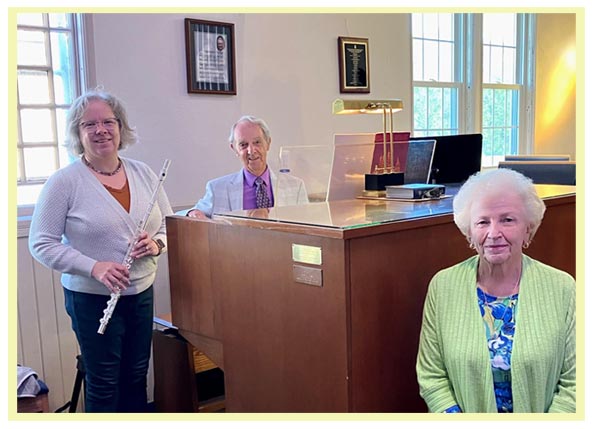 Floyd Corson –
Floyd has been our organist for 20 years. He is a retired music teacher and dedicated to the teaching of classical music and  was instrumental in establishing the Bach Festival in the Mount Washington Valley. We are blessed with his outstanding musical talents….
Anne W. Polok –
Anne began her directing at First Church in September of 2013, with the Chancel Choir. In the spring of 2015, a 3-octave set of Schulmerich Hand-bells was purchased and the bell choir was born! We welcome any and all to join either (or both) choirs at any time. No previous musical experience is required. All you need is a love for making beautiful sound to enrich the worship experience.
Muriel L. Magg –
Muriel officially became the Associate Organist at First Church of Christ, Congregational in 2010, and holds an American Guild of Organists Service Playing Certificate. Muriel's gift of music keeps her singing in the Chancel Choir, ringing handbells and chairing the Music Team. You can read her interesting monthly music articles in the church newsletter, The Congregate Tidings.